Frequently Asked Questions
We want you to have the simplest, easiest buying experience possible. But we know you might have a few questions. Read on for details about purchasing, shipping, checking order status, returns, and more.
Indoor
What is the difference between Nano Box and Nano Roll?
Open Roll shades have an exposed tube and powder coated end caps. Box shades are fully contained within an aluminum cassette.
The shade housing will always be wider than the fabric contained within, the Light Gap is the distance between the edge of the shade box or roll and the fabric.
What if I am not sure of the best mounting solution?
Inside mount shades typically blend in with the opening and results in moving the focus away from the shade. Windows should be square as this mounting option will highlight any issues with the opening. Outside mount enables the shade to cover opening discrepancies in the opening but the shade is more prominent in the room.
What is the difference between a Roll and a Pocket shade?
Open Roll is designed to be seen inside or outside a window, has powder coated hardware, and is designed to offer contemporary design to shades. Pocket shades are utilitarian and designed to be recessed within a pocket eventually to be covered by a closure piece. Pocket shades are not intended to be seen after installation.
What are the Light Gaps for my specified shades?
How are Indoor shades powered?
Manual, Rechargeable Lithium, Low Voltage, or AC – 110V.
What is the difference between inside, outside, and fabric width measurements?
Inside
If you enter Inside measurements, the factory will deduct 1/8" from the width entered for proper fit. The preferred and most effective method of mounting roller shades is Inside the window opening. This places the fabric as close to the glass as possible (very desirable), and also minimizes side light gaps. However, not all windows allow for mounting inside the opening, such as when you span multiple windows with one shade. In this case, an Outside mount is required. If you enter Inside measurements, the factory will deduct 1/8" from the width entered for proper fit.
Outside
When a shade is to be made to the exact width with no deduction taken, Outside should be selected. The factory will make the shade exactly to the width entered. There is no deduction taken for the Height entered, regardless of whether you order as Inside or Outside measurement. Many pros will always order their shades as Outside so they have control over the amount of the deduction taken. Remember, Inside means the factory will deduct 1/8" from the width entered, Outside means no deduction will be taken from the width entered.
Fabric Width
There are times when the fabric width takes precedence over the cassette width. This usually occurs when mounting a roller shade above a window frame. In this case, the desired appearance is that the fabric be the same width as the window frame, while the cassette, since it's mounted on the wall above the window, can be wider. Select Fabric Width to have the factory make the shade fabric the entered width. Just be aware the cassette will be wider than the fabric by about 1 ½" – 2", so make sure there's room for that where you're mounting the cassette.
Outdoor
What is the difference between Zen Box and Zen Roll?
Open Roll shades have an exposed tube and powder coated end caps. Box shades are fully contained within an aluminum cassette.
How is the motor side selected?
How are Outdoor shades powered?
Fabrics
How do I order a sample piece of fabric for my client?
Fill out the Fabric Swatch Order form and send to SI to process the order.
Additionally, the full manufacture sample books are available for purchase under the accessories in the FLOW portal.
What is the difference between Blackout, Light Filtering, and Sunscreen?
Blackout
Blackout fabrics stop light from penetrating through the material, creating privacy when needed. They offer a neutral white to the outside, regardless of the interior color selected. Many color choices and textures are available, making interior coordination easy. Some perimeter light bleed should be expected during the day.
Light Filtering
Translucent fabrics reduce heat and UV rays, but allow diffused light in, providing a soft glow when they are closed. If privacy isn't critical, Light Filtering fabrics offer many more decorative choices than woven screens, while also giving many of the same benefits. They differ from Screens in that they don't offer a clear view, but do provide limited privacy. Candle the fabrics at your windows both during the day and especially after dark to confirm privacy is adequate.
Sunscreen
Transparent screen fabrics filter incoming light, reducing heat gain, glare and harmful UV rays. Endless combinations of color and openness factors are available to fine tune your needs at each window. They do not offer privacy, however, so please take that into account when selecting shade material.
What is the best fabric for my home?
Please visit our Fabric Wizard tool to help guide you through the selection process.
Should I go with a light or a dark fabric?
Light Colors
Light colors, such as white, reflect solar energy away from interior spaces and transmit diffused natural light toward the interior. These colors are excellent for reducing overall solar heat gain, lowering energy costs associated with air-conditioning, and reducing the need for artificial lighting for additional energy savings. Due to high reflectivity, light colors will limit outward views.
Dark Colors
Dark colors, such as black, absorb solar heat and light for significant glare reduction. Benefits include improved clarity of electronic devices, diminished eye strain and excellent outward views. While the overall impact on solar heat gain is not as significant with dark colors, this heat will be more evenly distributed into the room, improving comfort and eliminating hot spots created by direct sun light.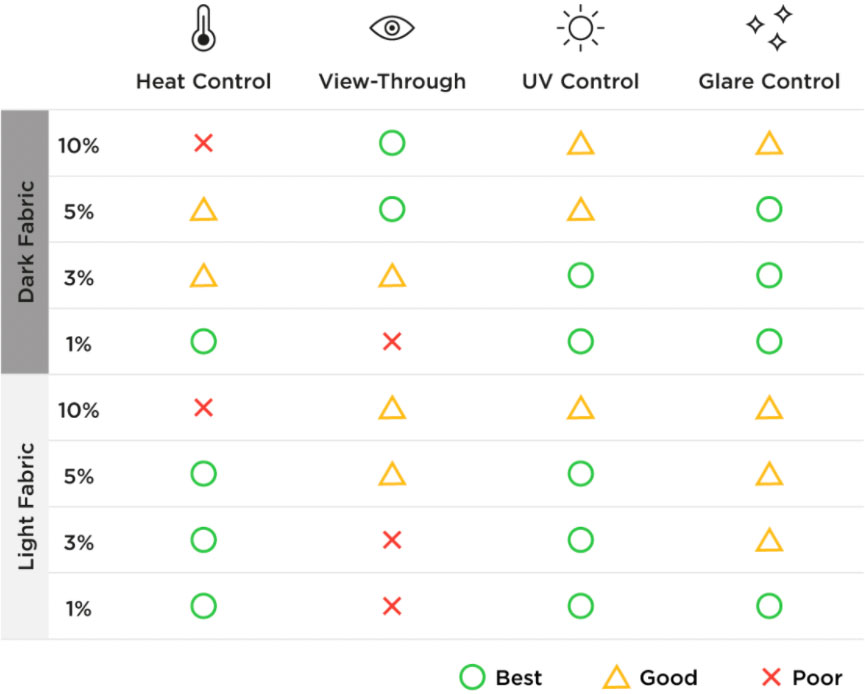 What does it mean when a fabric is railroaded?
Railroading is the process of rotating the fabric roll 90 degrees from its typical orientation and running the fabric "sideways". This is necessary to accommodate wider windows when the shade width exceeds the fabric roll width. Once railroaded, the width of material becomes the height of the shade. 
What is a seam within the fabric?
If both the width and the height exceed the fabric roll width the panel will then be attached to another fabric panel with a seam. The seam is typically placed at the highest point in order to have the lowest possible visual impact.
Accessories
What do I need for integration?
What do I need to power the shades?
Manual
💪
Recharge Lithium
Shade Order will come with a magnetic charging cable for the shades.
Low Voltage
Janus Kit (8 shades), 24V DC 1.25A Wall Mount Power Supply (1 Shade)
AC
AC shades will arrive either with a pigtail or IEC three prong plug attachment. An Electrician should be consulted before terminating or landing AC power wires.
What are my different options to control the shades?
Manual, local wall switch, handheld remote, app, voice, or through a control system such as Control4, Crestron, Savant, and others.
Warranty
Fabric & Motors
5 Years
Accessories
1 Year
This Limited Warranty (the "Warranty") covers each product ("SI Product") manufactured by Screen Innovations ("SI") or assembled from components ("SI Components") manufactured by SI, for the applicable warranty period hereinafter stated. By purchasing a SI Product, the end-user agrees to be bound by the terms of the Warranty. If a SI Product or SI Component is defective in material or workmanship within the warranty period applicable to it, SI will repair or replace, at SI's sole discretion, the defective product or component. SI's obligation does not include labor or shipping costs, which are the responsibility of the end-user. SI reserves the right to issue a cash refund in an amount equal to the cost of repair or replacement in lieu of repair or replacement
WARRANTY PERIODS
Base Warranty Periods
Except as otherwise expressly stated herein, the warranty period for an SI Product or an SI Component is five (5) years.
The Warranty applies only to the initial end-user of the SI Product and may not be transferred or assigned. If the product is required to be installed by an authorized SI dealer, an application warranty period begins on the date of product shipment from SI. If no assembly or installation by an authorized SI dealer is required, an applicable warranty period begins on the end-user's invoice date. SI reserves the right to inspect the product or component involved in any warranty claim. Any claim under the Warranty must be made in writing, within 30 days following the date on which the claim arises and must be accompanied by a copy of the end-user's original invoice and proper documentation (photos, video, written description, etc.) to support the claim. Repair or replacement of a part or product pursuant to the Warranty shall not have the effect of extending a warranty period.
Specific Warranty Periods
Each of the following products and components has the warranty period set forth opposite it:
5 years against corrosion and cosmetic deterioration under normal conditions. Individual standard components such as accessories made of aluminum, die-cast aluminum, stainless steel, PVC, plastic, nylon, etc. (excluding custom parts). Metal finishes (powder coated or painted exposed surface aluminum and steel components). Exterior solar shades steel cables, steel cable tensioners and brackets.
Supplier Warranties
The following items are covered by a separate manufacturer's limited warranty. Si will supply copies of such warranties upon request. 1 year on gaskets, brushes and inserts. 5 year on Somfy Electric Motors and fabrics.
No person or entity (including any SI distributor, representative or employee) is authorized to make any modification, extension, or addition to this Warranty. If any term is held to be illegal or unenforceable, the legality or enforceability of the remaining terms shall not be affected or impaired.
All disputes arising from this Warranty are governed by the laws of the State of Texas, and any action to enforce the Warranty must be initiated in Denton County, Texas.
THE WARRANTY IS VOID IF:
SI has not been paid in full for the SI Product, and/or in accordance with any payment terms, prior to a warranty claim.
Any changes, modifications, additions or attachments are made to an SI product without the prior written consent of Screen Innovations.
Any components used in, or used to assemble or install, an SI Product are not SI Components, components supplied by SI, or components approved in writing by Screen Innovations.
The SI Product is assembled or installed by any person or entity other than SI or the authorized trained SI dealer from whom the product was purchased, unless previously authorized in writing by SI.
—
Please view this PDF for the latest updates to the Warranty Policy: SI Shade Warranty